Jamboard
Jamboard Alternatives, Competitors, and Similar Software
Google's Jam board is a virtual whiteboard. It allows multiple users to write and draw on the same canvas at the same time. Similar to Google Docs, it is essentially a shared canvas.
Multiple users can work on the same Word document at once in Google Docs. On the same blank canvas online, Jamboard users can also alter images, add text, and upload files.
People can also use Jam board while using, say, Google Meet. The facilitator can launch Jamboard, which all participants can access, rather than using a separate drawing app.
Why do you require an alternative, though?
Jam board is a Google product, but it lacks some key functions. For instance, it does not recognise some file extensions.
For businesses or instructors who have already invested in another learning management system, Jamboard lacks integrations, which can be problematic. Jamboard does not permit the inclusion of media content such as videos or music, but other whiteboard software does.
Given these factors, it is prudent to look into Jam board alter natives that fit your specific requirements, as I will demonstrate in the following sections.
Alternatives to JamBoard Software
The Best Google Jam Board Alternatives & Competitors 2023
1۔  Conceptboard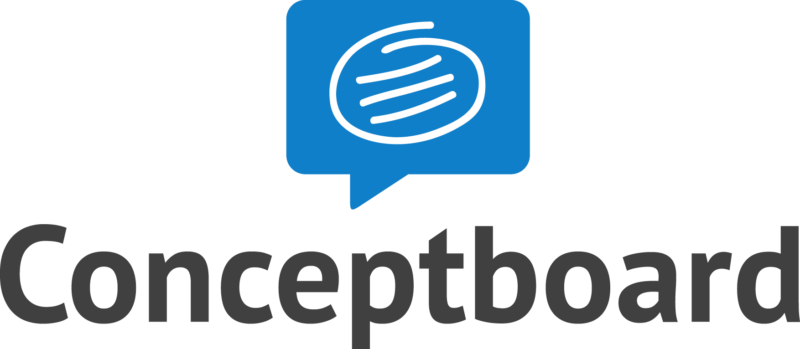 Conceptboard is a digital whiteboard that enhances the security of your work. The whiteboard platform offers a solution to the problem that businesses have with meetings, collaboration, Agile management, and design thinking.
The Concept Board has the following capabilities:
Infinite Canvas: The whiteboard has no end; users can continue to add notes and other stuff at the bottom.
Templates: You can kick off a meeting with one of the many templates available. There is also a "break the ice" game on the board that can be used to start a meeting.
File Import : Concept board supports the import of a variety of file types. Even CMYK files can be attached, and the system will automatically recognise the colour scheme.
Jam board currently lacks a live cursor, which is featured on Concept board. Instead, as he updates the board, the person's name appears on the cursor, making it easy to determine who contributed to the idea.
Rare file types like SVG, AI, and EPS can be uploaded to Concept Board. These are Adobe Illustrator files and vector programme files. With Jam Board, it is not possible.
2۔  Padlet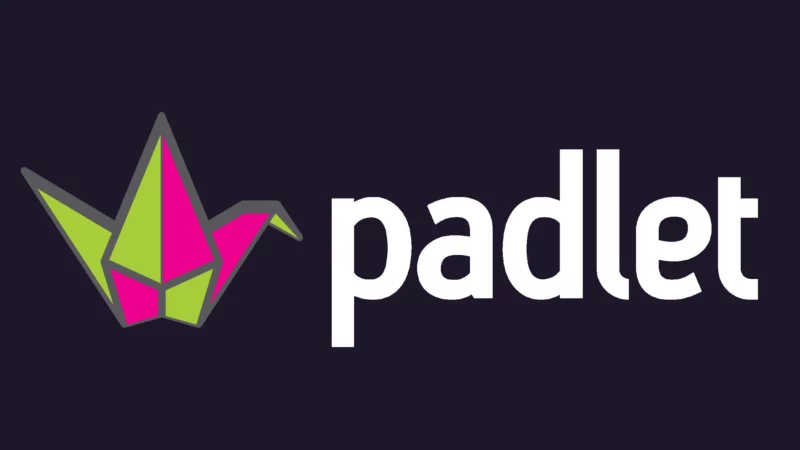 A multimedia-capable interactive bulletin board is called Padlet. It is one of the most popular digital whiteboards in the academic world because users can upload, store, and manage files collaboratively.
Here are Padlet's best features:
Multiple Types : You can select from a variety of board options. Maps, timelines, grids, streams, and canvas can all be made.
User Interface: You can easily click, copy, drag, drop, and paste items on the board.
Link-Sharing: Like other whiteboards, Padlet provides a URL that can be shared with team members or students. In addition, all changes to the board are automatically saved, reducing the risk of data loss.
Support : Padlet accepts a variety of file types, including those from Photoshop, YouTube, Illustrator, and Autocad.
Jam board is only available in English and Japanese, whereas Padlet is available in 43 languages.
Padlet does not restrict the number of concurrent users. Jamboard, however, is limited to 50 participants per board, making it unsuitable for large classes or group projects.
3۔ Mural
Mural is one of the most advanced alter natives to Jam board. It has excellent security and provides a variety of integration methods with other systems.
Here are Mural's best qualities:
There are a number of templates available to help you get started. Process flowcharts, work flows, mind maps, and data flow diagrams are a few examples.
Infinite Canvas: The canvas continues as long as the users scroll. To make the canvas less chaotic and more organised, there is also the option to resize it.
Permissions: After sharing a template, you must restrict who has access and to what extent. For example, you can select the facilitator and those with read-only access.
Mural offers a method that they refer to as Facilitation Superpowers. This word is trademarked, allowing executives to control the virtual room, make good decisions, and enhance the productivity of collaborative meetings.
Mural, like the last tool on this list, features a live cursor that shows people's names on each moving whiteboard tool. Users can also alter the colour of their cursors, making it easy to identify who is performing what task.
4۔  Whiteboard by Microsoft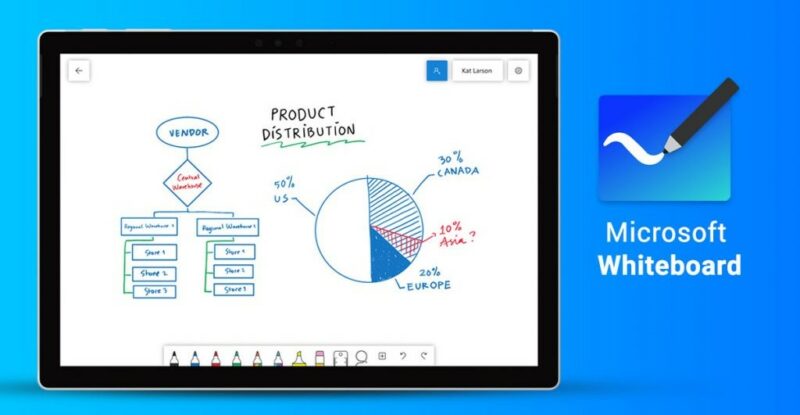 Similar to Jamboard, MS Whiteboard is a collaborative digital whiteboard. It is compatible with Microsoft 365 and can help you organise a creative meeting.
The following are some of MS Whiteboard's features:
The app is compatible with Surface Hub, Teams, and other devices. Also, an organisation can incorporate it into its arsenal of tools, making it available to everyone.
The programme lets you build a whiteboard, copy the link, and share it with your team for viewing or editing.
Endless Scrolling : Users can continue to add notes to the board without having to build a new board for the same users.
MS Whiteboard is digital, as opposed to Jamboard. The issue with Google's Jam board is that while it has a digital version, you will get the most out of it if you purchase about $5,000 in hardware.
Additionally, the Microsoft Whiteboard includes a smart pen. Also, the technology can recognise irregular shapes and fix them automatically, which Jamboard cannot do.
 5۔ Miro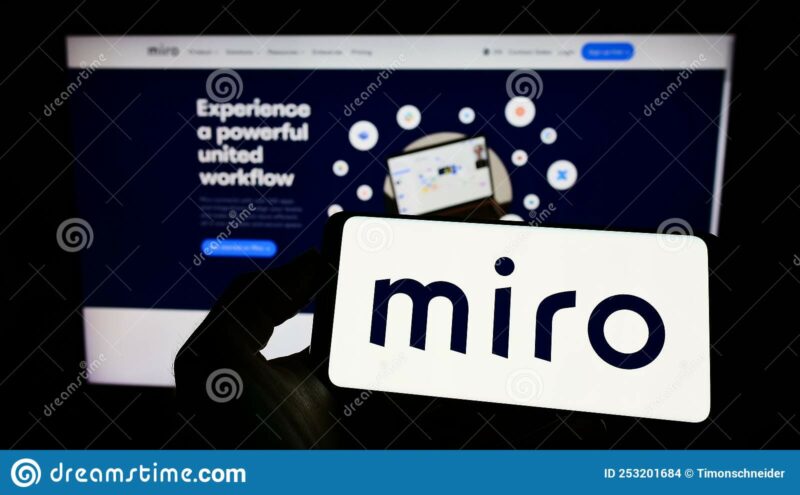 Miro is the next on our list of the best and most popular Jam board alter natives free. Miro is a unique tool because it has an unlimited canvas. It gives leaders many ways to collaborate with their teams. Additionally, it is a fantastic tool for documentation and digital brainstorming.
Here are the best things about Miro:
The Miro eco system includes a variety of pre-built templates, including fishbone diagrams, mind maps, business models, and canvases.
You can add files and upload images directly to the canvas. The beauty of Miro is that you can drag and drop Excel and PDF files from your desktop onto the canvas to upload them.
Sharing : You can share a URL from your whiteboard with other team members.
More tools than Jamboard, such as connectors, tables, and mind maps, are available in Miro. Jam board, on the other hand, has pens, erasers, a spotlight, and simple lettering.
Jam board does not offer advanced features to users or participants like Miro does. For instance, Miro's voting system, video, and chat capabilities can make your cooperation more engaging.
6۔  Whiteboard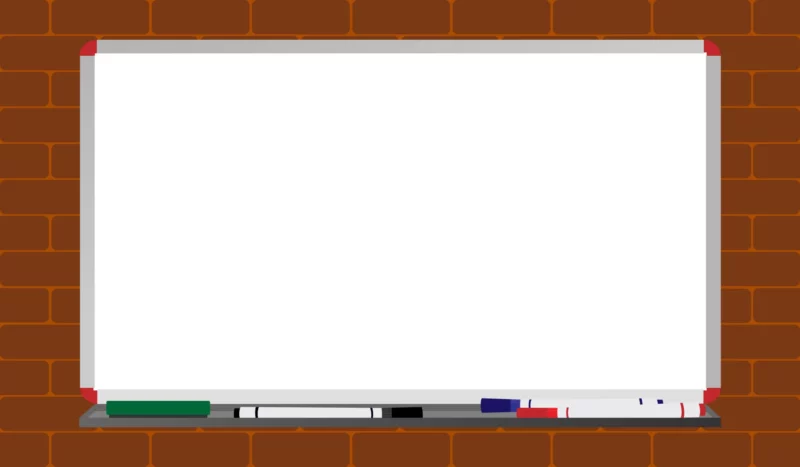 Multiple users can simultaneously access the same board from various locations, which is a major advantage of this top Jam alternative on Reddit:
Here are some of its characteristics:
Sharing – A new "whiteboard" developer may obtain the URL and distribute it to other users.
Keyboard shortcuts are used by the tool to draw shapes. The device can also turn pencil sketches into computer-drawn graphics.
Users engaging in the collaboration tool have access to virtual pencils and erasers to manipulate the drawings.
Downloads : The entire whiteboard can be downloaded as a PNG file, making it easy to distribute and view on mobile devices.
Tracking changes to documents is a strength of Wite Board. It is possible with Jam board, but you need a Jam board licence to access the log event information.
Wite board adds a feature that Jam board lacks: Slack integration. To enable this integration, you must install a plugin. Additionally, on Jamboard, you won't be informed when the board is changed.
7۔  Kinopio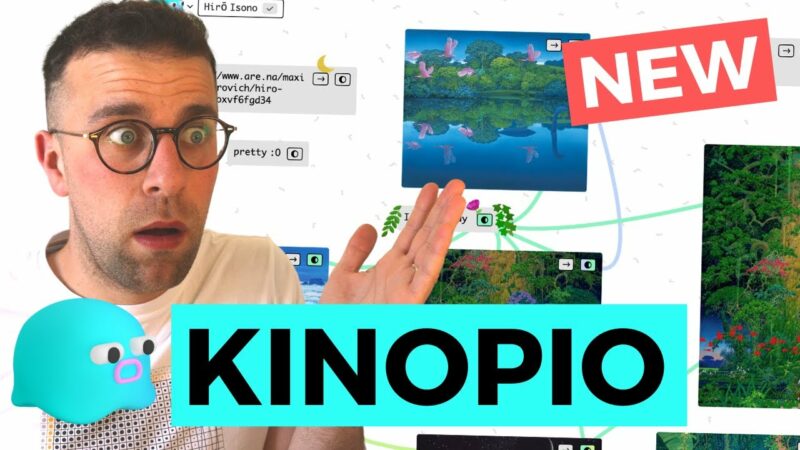 Kinopio is a visually engaging whiteboard because some of the content that users add is animated. Even videos and GIFs can be added to the whiteboard and will play right away.
Here are Kinopio's best features:
Privacy Settings – You can make the whiteboard inaccessible to others and designate who is permitted to join.
Mobile:  The app is compatible with both desktop and mobile operating systems. Unfortunately, there is no app available for mobile devices. There is, however, a way to add the website to the home screen.
Data Export: Your whiteboard can be exported to PDF and JSON files. The ability to save selected whiteboard cards as PDFs is also available.
Kinopio has connections. The procedure for linking disparate concepts, like texts and images, is straightforward and obvious. Simply clicking on one end of the box will cause this connector to app ear.
You can also construct new boxes or concepts from an existing box. A new board cannot be added from an existing one because each image or element added to Jamboard can only be toggled.
8۔ Whiteboard with ClickUp Interactive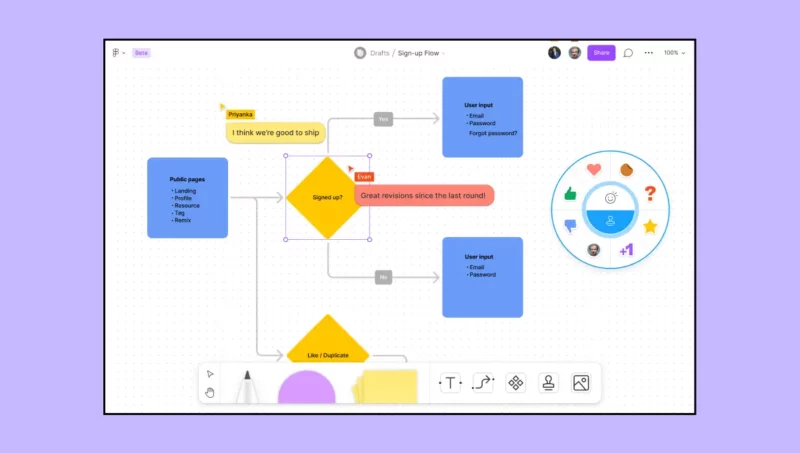 Participants can build digital whiteboards using pre-made templates that are all visible to the whiteboard collaboration using ClickUp's whiteboard. Creators can also begin with a blank canvas and invite others to fill it in.
Here are the best features of ClickUp Whiteboard:
Everything View: Managers who have created many whiteboards can see the status of tasks like Ready, In Progress, and In Review.
Users can organise teams in "spaces" and data in hierarchical folders. It makes things more organised and decreases the likelihood that information will pile up into a big pile.
Functionality :Using the whiteboard, users can upload files and add website cards, sketches, and connectors.
On the ClickUp task management system, a whiteboard can be added as a task. Jam Board is unable to accomplish this because Google is not technically a task management platform.
I will award ClickUp an additional point because it has more key board shortcuts than Jamboard. Google is still working on an app for Jamboard, which currently only has a limited number of keyboard shortcuts. The key board shortcuts for ClickUp, on the other hand, are extensive.
9۔ Lucidspark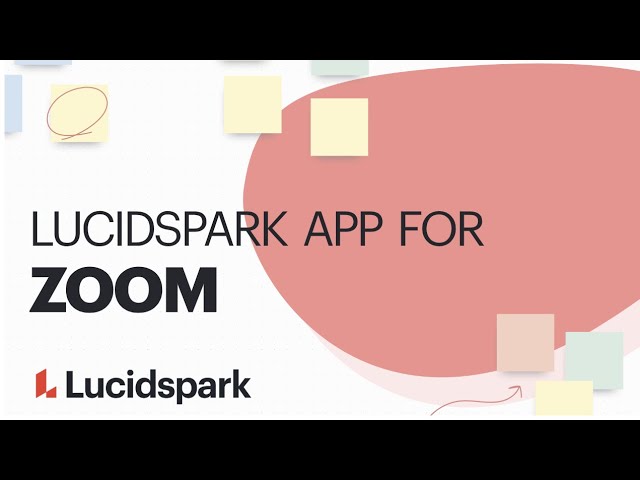 Lucidspark is a great whiteboard alternative to Jamboard because cooperation is the foundation of the entire system. Business leaders and coaches can collaborate in real-time or asynchronously, to add insult to injury.
Here are Lucidspark's top qualities:
Integrations:Microsoft Teams and Zoom are both compatible with Lucidspark. This integration makes the entire meeting much more streamlined and manageable, especially if attendees are required to participate.
Even though Lucidspark is browser-based, there is an iOS app for it. It means you or your team can use it on an iPad.
Templates: The system has different categories for templates. You must select the appropriate template from these categories: brainstorming, creative, planning, project management and planning, meeting, etc.
Lucidspark's project management solution is exceptional. It signifies that a leader can assign tasks to particular individuals on the canvas, and these individuals can then move to the digital breakout rooms to work on their tasks.
In addition, Lucidspark provides visual work flow management. This feature enables users to construct something on the canvas using a drag-and-drop editor, making things easier to comprehend and visually arrange.
Conclusion
Based on my personal experience using these options, Microsoft Whiteboard is the best alternative to Jamboard.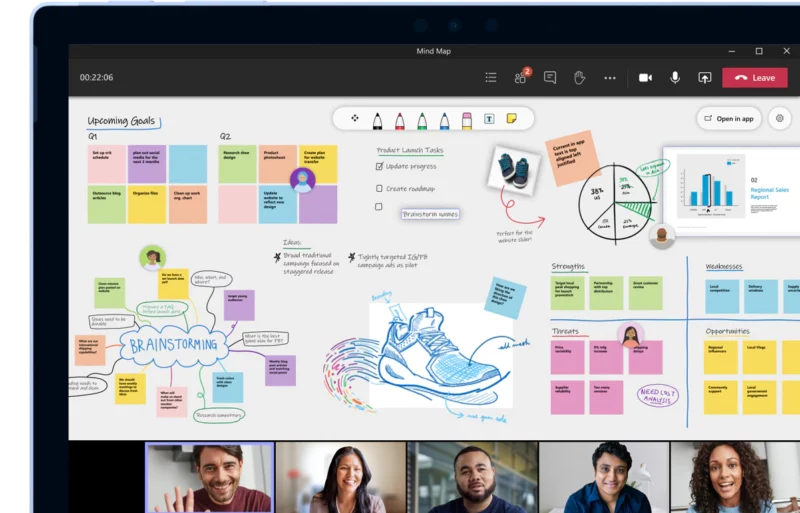 It is simple to use and works well with the Microsoft eco system. I am astounded by what Microsoft has accomplished here, given that it includes templates, drawings, post-it notes, voting and polls, and much more.
Knowing that the product is a Microsoft product, I can state that it is reliable and that I can expect to add features in the future. Additionally, it works flawlessly, especially when combined with Microsoft Teams for online meetings.