Are you constantly getting error messages on Firefox while browsing the web? Is Firefox crashing frequently? Is Firefox utterly slow in response? If you are looking for an answer for either one or all of the following then resetting Firefox to default can be a perfect solution for your Firefox related problems.
Note: Resetting Firefox to default is known as Refresh.
And if you don't know how to reset Firefox to default, or in other words refresh Firefox then this will be discussed in this article. But it is not restricted to that only as we will also be looking on the following topics:
Why to refresh Firefox?
What does the refresh Firefox feature do?
Which items will be removed and which items will remain untouched after Firefox Refresh?
So without further ado let's start.
Also Read: How To Reset Chrome Settings To Default
Why to Refresh Firefox?
Firefox is undoubtedly a secure, fast, reliable, user friendly open source browser that is used by millions of users globally. Although, all browsers keep on releasing new updates from time to time but still, users face problems like slowness, unresponsiveness and crashes and Firefox is no anomaly. And if you are thinking what causes a browser to crash or unresponsive then here are the few things that causes problems with a browser:
1. Piling up of cache cookies and browser history.
2. Faulty browser extensions and add-ons
3. Change in browser settings either by you or a malware.
So to fix all this in one go Firefox has an inbuilt feature of Refresh, that restore Firefox to its original or default state while keeping your vital information like saved passwords and bookmarks intact.
Also Read: How To Clear Cache On Firefox?
What does the Refresh Firefox Feature do?
As discussed earlier in the article that when you refresh Firefox, the browser is restored to its default settings. Now if Firefox is your preferred browser then you must be knowing that Firefox always saves all your personal information and settings in a dedicated folder known as Profile. Now when you refresh Firefox a new profile folder is created to save the important data.
This means all your all your add ons, themes extensions that are saved in the Profile folder are removed, once you refresh Firefox. Now what data is saved and what is removed, let's check in the next paragraph.
Which Items are Removed and Which are Not?
If you are thinking that resetting Firefox to default will remove all your browser data and it's not true. Here is a complete list of data that is saved and that is removed.
Note: The item list is in accordance with what is shared by Firefox on their website,
Firefox will not remove the following items:
Your browsing and download history
Bookmarks created by you
Your saved passwords
Personal dictionary
Your auto-fill and web form information
Cookies
List of items and settings that will be removed:
All your browser extensions and themes
Your allowed permissions for websites.
Preferences that you have modified.
Added search engines
DOM storage
Security certificate along with device settings
Download actions
Toolbar customizations
User styles
If you have any open tabs then they too will be reopened after the Firefox refresh. A prompt will appear that will ask for your permission to reopen the currently open tabs. If you click on yes then all your previously open tabs will be restored back.
Also Read: How To Disable Hardware Acceleration In Chrome & Firefox
How to Refresh Firefox?
So finally after discussing all about resetting Firefox to default settings, now it's time to learn how to refresh Firefox.
1. Double click on the Firefox icon to launch the browser.
2. Now click on the menu icon (hamburger icon) located at the top right corner of the browser window.
3. From the drop down menu select the option, Help.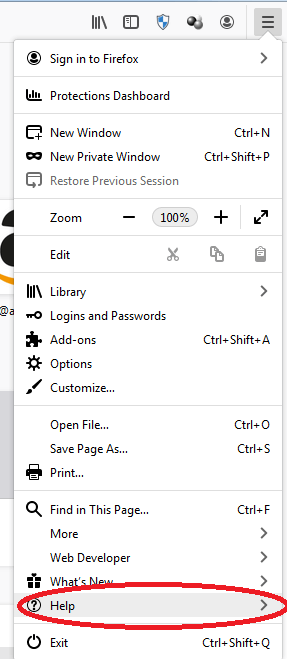 4. This will open other options in Help menu, select Troubleshooting Information.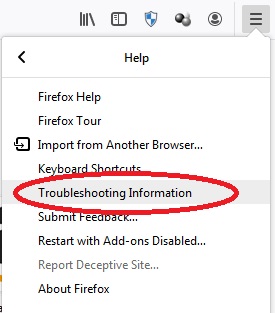 5. Now in the new browser window that opens click on the Refresh Firefox button at the top right corner.

6. A small dialogue box will open which will warn you that it will remove your add-ons and your customizations, and revert browser settings to their default settings. Now since this is what we intend to do, so click on the "Refresh Firefox" without a second thought to confirm.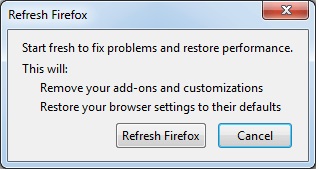 7. Firefox will now close and remain closed until it removes the old data. Once done Firefox will reopen as a fresh browser and ask your permission to restore the tabs that were previously opened.
Wrapping Up
Resetting Firefox to its default setting through the Refresh feature is one of the easiest ways to resolve the most common browser related issues. We hope that the article has answers all your queries related to Firefox refresh feature. If you still have any doubts then free to share it with us in the comments section below.