One of the most crucial decisions you make about your phone is selecting the best Android keyboard apps. When touchscreen smartphones first appeared and Android and iOS started to develop, keyboard apps became essential for customers who value personalization. Many Keyboard apps with distinctive user interfaces and noteworthy features have surfaced in recent years.
At the moment, keyboard apps prioritise providing the user experience that is the most intuitive. You must go through a plethora of options on Google Play and the Apple App Store in order to choose the best keyboard app. We have gathered a list of the top Keyboard apps that provide a distinctive experience for your convenience.
Keyboard Apps
Google Indic
Grammarly
Microsoft SwiftKey
PlayKeyboard
Go Keyboard
FancyKey
Kika Keyboard
Mint Keyboard
Bobble Indic
The best 8Android Keyboard Apps For Mobile To Make Typing Simpler
1. PlayKeyboard

Are you looking for the best Android 2022 Keyboard Apps? Think of a keyboard with PlayKeyboard and access to live themes. The only keyboard that responds to input as you type is this one. With the keyboard, a character lives inside of you and responds to the words' feeling. As an illustration, typing love will make the character dance, while typing hahaha will make the character laugh along with you.
The only keyboard on the list that needs assembly is PlayKeyboard. However, the app, which offers more than 200 themes, allows you to create and share your own themes. You could even add personalised GIFs to your keyboard.
2. Go Keyboard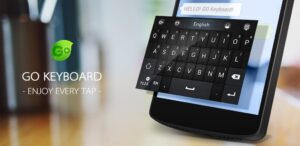 If you care more about privacy, Go Keyboard is one of the best keyboard apps. The app lets you create a cartoon representation of yourself from your photographs and talk with personalised sticker packs. Additionally, you may share your friends avatar stickers via social networking platforms like Twitter, Facebook, and iMessage.
In addition to 800+ emoticons, Go Keyboard offers over 1000 keyboard themes, 100 font styles, thousands of emojis, GIFs, and emoticons. The app supports over sixty languages, allowing you to customise the keyboard. You can also set your photo as the keyboard's background. Three keyboard styles, including Qwerty, Qwertz, and Azerty, are available in the app.
3. FancyKey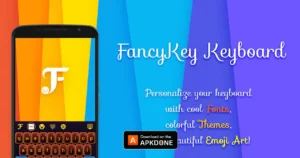 FancyKey Keyboard is a great option if you're seeking for highly regarded keyboard apps. Change to FancyKey Keyboard if you're sick of your old emojis and regular font keyboard. For use in chats, it offers more than 3200 humorous emoticons. With more than 70 beautiful typefaces, the keyboard app also boasts one of the best auto-suggest and auto-correct engines.
More than fifty amazing themes are included with FancyKey Keyboard, and you can also create your own themes utilising the program's backdrops, key sounds, typing effects, fonts, and Key styles.
Additionally, an addition of typing techniques and the SWIPE Input method can offer the best typing experience.
4. Google Indic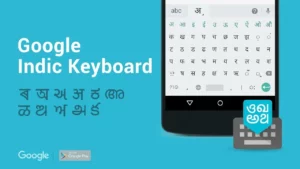 When discussing the best keyboard apps, Google Indic Keyboard must be cited. There are 12 different keyboards available in this phone keyboard app, all of them are based on Indian languages. These include English, Hindi, Assamese, Gujarati, Punjabi, Odia, Marathi, Tamil, Bengali, Telegu, Malayalam, and Kannada.
A transliteration function that is exclusive to the Google Keyboard enables you to type text in English and get results in your original tongue. This feature elevates this keyboard to the top of the list in terms of usability.
5. Grammarly

Grammarly is the next app on our list of the best Android keyboard apps. Grammarly can help you if you don't want to make grammatical mistakes when typing an essential email on your smartphone.
When writing a crucial message or post, the keyboard's real-time grammar and spelling checkers may be of great assistance. The app also offers appropriate synonyms and precise punctuation correction.
One of the most useful keyboards on the list, this best keyboard app for Android 2022 is compatible with the majority of iOS and Android apps. Additionally, the software offers succinct justifications for every correction, enabling you to enhance your grammar. Additionally, you may choose from four other English dialects, including American, Canadian, Australian, and British, with this free keyboard app.
6. Microsoft SwiftKey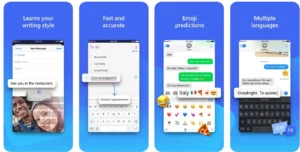 Microsoft SwiftKey Keyboard has established itself as one of the best keyboard apps, with more than 500 million downloads on Google Play, if we're talking about the best keyboard apps for Android and iOS. It offers an intelligent typing feature that picks up on your typing style and improves on subsequent word recommendations. SwiftKey also enables you to quickly employ emojis and GIFs according to your preferences. All the emojis you need to express your feelings in any situation are included in SwiftKey's emoji keyboards.
The auto-correct feature, which actually works, is the best feature of this top Android keyboard. The word prediction offered by SwiftKey's autocorrect will be the most accurate and pertinent. The keyboard also offers a selection of themes and styles so that you can personalise it however you like. Even better, you can create a completely original theme by fusing multiple backgrounds and colours.
Along with other features, Microsoft SwiftKey offers a translation, sticker sets, and a calendar. The incognito mode on this best keyboard for Android phones prevents anything you type in a private conversation, including word suggestions and emojis, from being seen.
7. Kika Keyboard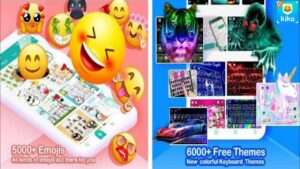 Kika Keyboard is next on our list of the top Keyboard Apps. It is a keyboard that features an extensive emoji lexicon that you are welcome to use. It offers a full-featured, secure Android emoji keyboard with all available emoji types as well as an inventive emoji prediction tool. Try out the new GIF and sticker keyboard as well, where you can look for and get a tonne of GIFs based on different themes.
On a smartphone or tablet, the keyboard can be resized for one-handed use and the layout can be modified. In addition to the sliding input feature, this typing app for Android also features Voice Board, auto-correction, and word prediction to make typing more enjoyable.
8. Mint Keyboard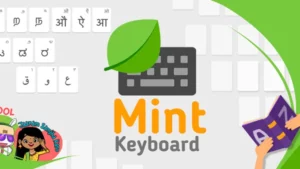 One of the most user-friendly keyboards is Mint Keyboard, which has an AI engine that offers the most accurate word predictions and auto-correction. In order to make your conversations more expressive, the keyboard also contains stickers and a GIFs board where you can access fresh stickers.
The Mint keyboard has a smart reply function that remembers commonly used responses and lets you utilise them appropriately. This feature is included in the well-known Keyboard Apps. Additionally, this best keyboard apk suggests humorous icebreakers for when you're talking to someone. You may constantly experiment with keyboard themes because the app receives new themes every week. To set itself apart from the competition, Mint supports typing and speech-to-text for all varieties of Hindi.
Best Android Keyboards, in summary
The best keyboard apps for Android and iOS mobile apps are those listed above. You need not be concerned about their usability or user interface because they have all been tried and tested. Each of the aforementioned apps has something special to offer, such as an AI-based keyboard or complete Hindi language compatibility.